Phnom Penh: Three companies have been granted the right to collect and transport solid waste in Phnom Penh, effective from May 1, 2021. Previously, only Cintri was responsible for collecting and transporting garbage in Phnom Penh, and sometimes there was a problem of long-term garbage congestion.
The main purpose of increasing the company responsible for waste is to make waste management more efficient and make Phnom Penh more beautiful.
The handover ceremony of the contract for the collection and transportation of solid waste in Phnom Penh took place on the morning of February 5, 2021 at Phnom Penh Capital Hall.
The three private companies are: First, Cintri of Cambodia cooperates with Chinese company Everbright. Cintri has a long-standing monopoly on garbage collection in Phnom Penh II – Mizuda Group Co., Ltd, headquartered in Huzhou, Zhejiang Province, China, is planning to build Garbage incineration power plant in Siem Reap and 3rd: 800 Super / GAEA of Singapore.
Let's see how these three companies will be able to make Phnom Penh more beautiful.
In Phnom Penh, there are 14 districts divided into 3 areas. One company is responsible for collecting and transporting garbage in only one area, including: Zone 1 – Company 800 Super / GAEA has 5 districts: Khan Toul Kork, Russey Keo, Sen Sok, Chroy Changva and Khan Prek Pnov. Zone 2 – Chinese company Mizuda Group Co., Ltd has 5 districts, including: Dangkor, Por Senchey, Kambol, Daun Penh, Khan 7 Makara. Zone 3 – Cintri cooperates with Chinese company everbright in 4 districts: Chamkarmon, Meanchey, Chbar Ampov and Boeung Keng Kang.
During the handover ceremony on the morning of February 5, 2021, Mr. Khuong Sreng, Governor of Phnom Penh, instructed the operators of the three waste companies to carry out the operation of providing waste collection and transportation services. Be strong in your area to the best of your ability, with all your physical and mental strength, efficient and highly responsible.
It is remembered that on October 25, 2019, Samdech Techo Hun Sen officially announced at the Plenary Meeting of the Council of Ministers that the right to collect Garbage in Phnom Penh from Cintri, temporarily placed under the control of the state.
At that time, Samdech Techo also announced to the Ministry of Economy and Finance and Phnom Penh Capital Authority to divide the waste management and collection area into at least 4 areas and put it up for private companies to bid for garbage collection and management. In Phnom Penh, one company is entitled to only one area.
Withdrawal from Cintri to stop collecting garbage exclusively in Phnom Penh because Cintri, which has been collecting garbage for many years, can not Manage garbage collection and transportation on time.
The Phnom Penh Municipal Authority has announced that in Phnom Penh today, both the area and the population increase, and there are about 3,000 tons of garbage per day.
In the past, garbage crises were frequent, especially during the holidays, and finally when Cintri employees went on strike in October 2020 while it was raining in Phnom Penh. Extreme levels of flood danger were announced in at least three places.
In addition to household garbage in Phnom Penh, there is also the problem of garbage in public places and especially in riverside parks. Some people at home and the public do not seem to pay attention to cleaning, packing and storing garbage properly, especially after eating in public places and in the park Riverside garden.
However, from May 1, the garbage collection work will be divided into 3 companies and divided into more responsible areas. So Cintri's previous burden was lightened when two new foreign companies came to his aid and there was a clear written contract between the garbage collection company and the Phnom Penh authorities.
In order for the public and the people of Phnom Penh to be more involved in waste management, the Phnom Penh Municipal Authority should also require the three waste companies to set clear deadlines for workers. Clean up public places, roads, especially gardens, as Cintri has done in the past.
The deployment of bins should be more than now, whether in the park or along the river, on the streets, especially in the market town, etc. must have bins Small big. On the road, no matter how small or big the road, there should be many garbage dumps.
More importantly, when there is a cleanup and there are a lot of bins deployed, there must be a garbage delivery at least every 2 days, if not every day everywhere Whether in public places, on the streets, in parks or in people's homes. Because if there is a garbage can and the garbage is full, the garbage storage is not in order and the wind will blow or the rain will scatter the garbage.
On the other hand, if there is a trash can and our Cambodian people do not reach the level of throwing trash outside the bin. In the past, due to the lack of bins, garbage was scattered on the streets, and where there are bins, there is still a lot of rubbish, full of bins, overflowing through the wind. )
In people's houses, whether it is a small road or a main road, they should arrange the garbage storage in an orderly manner and tie the garbage bags properly and conveniently for both the transporters and There is a good way at home. On the other hand, those who like to take out the garbage from the house should also stop this bad habit, because even if you take the garbage in bags and bags to throw it out of the house itself. However, you still have to pay the monthly garbage fee.
The authorities have cooperated with garbage collection and transportation companies by organizing more companies and dividing the area of ​​responsibility in order to solve the problem of garbage congestion like in Cintri alone. Therefore, all our citizens should participate and not be heavy, just store the garbage properly and let the garbage truck to transport it. The garbage congestion crisis that Phnom Penh people have experienced in the past should be enough.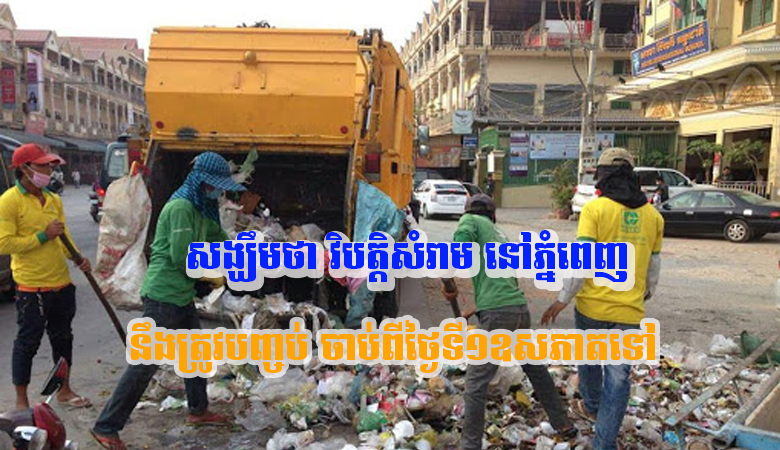 Powered by the Echo RSS Plugin by CodeRevolution.