During the last year the purchase of food has been the priority for many Cuban emigrants. Many have preferred to buy the food that their loved ones need on the island online rather than send them money by way of remittances, since to the prevailing shortage in the country we must add the high cost of food and other basic necessities.
In other words, today in Cuba you cannot find certain foods even if you have the money to buy them, and from that reality those who best "escape" are those who have a relative abroad who can send them a shipment of food.
And if we talk about food, we well know the priority that meat should have on the Cuban table, therefore, today we respond to not a few of our followers interested in knowing what are the best options to buy meat and then send them to Cuba.
Although there are several options to send food to your family on the island, we recommend these, taking into account the relationship between quality-price, delivery times and national coverage, since not all these companies or stores make deliveries throughout the country.
If your interest is to buy meat for your family residing in any part of the country, we suggest you do it with Supermarket 23 or with La Javelina . Both stores are present in all Cuban provinces, especially the first one.
Of course, depending on the territory to which you want to send the meats and their derivatives there will be more or less offers. For example, there are many more options for residents of the country's capital than for those residing in a municipality of Pinar del Río.
Supermarket 23 asks you to indicate at the beginning the municipality to which you want to send your purchase, and then filter the offers available for that territory. These are, for example, some of the meat offers available right now for the city of Santiago de Cuba: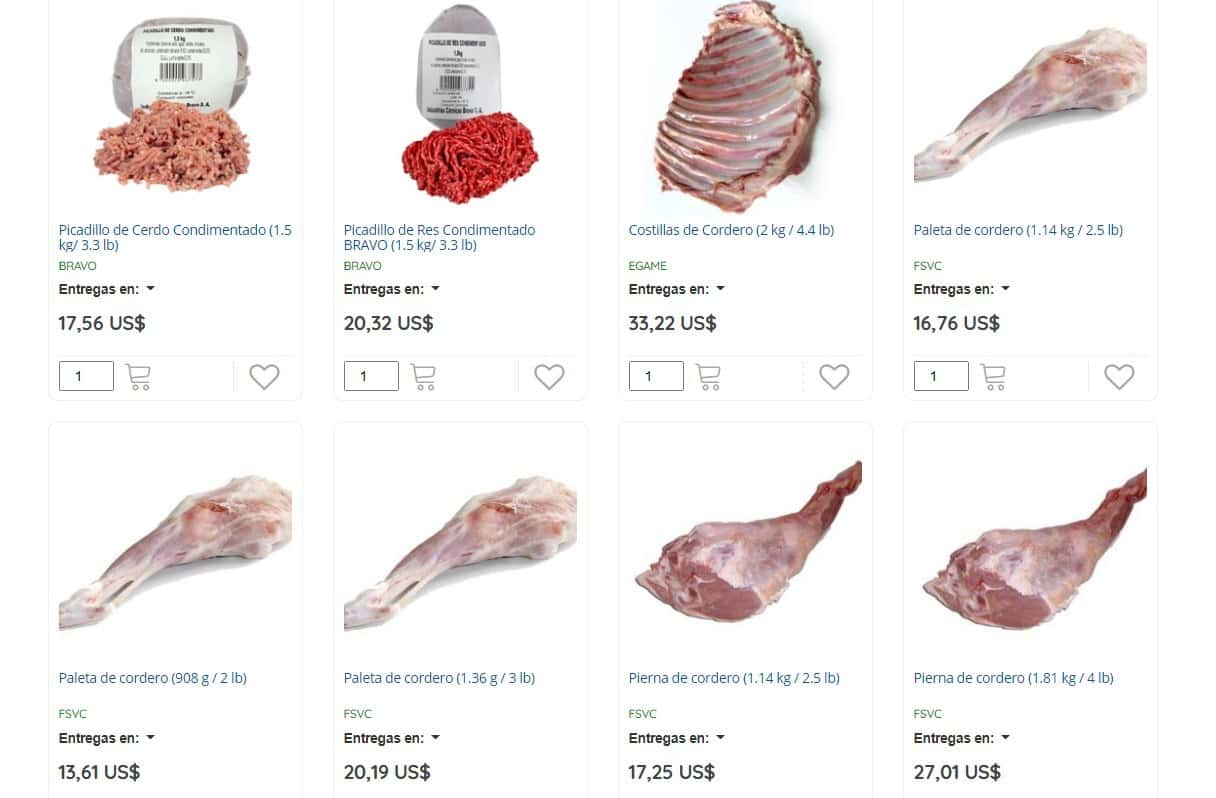 Spiced Pork Mince (1.5 kg / 3.3 lb) – $ 17, 56 USD
BRAVO Seasoned Beef Picadillo (1.5 kg / 3.3 lb) – $ 20, 32 USD
Lamb Ribs (2 kg / 4.4 lb) – $ 33 , 22 USD
Lamb shoulder (1. 14 kg / 2.5 lb) – $ 16 , 76 USD
Ram's shoulder (908 g / 2 lb) – $ 13, 61 USD
Leg of lamb (1. 14 kg / 2.5 lb) – $ 17, 25 USD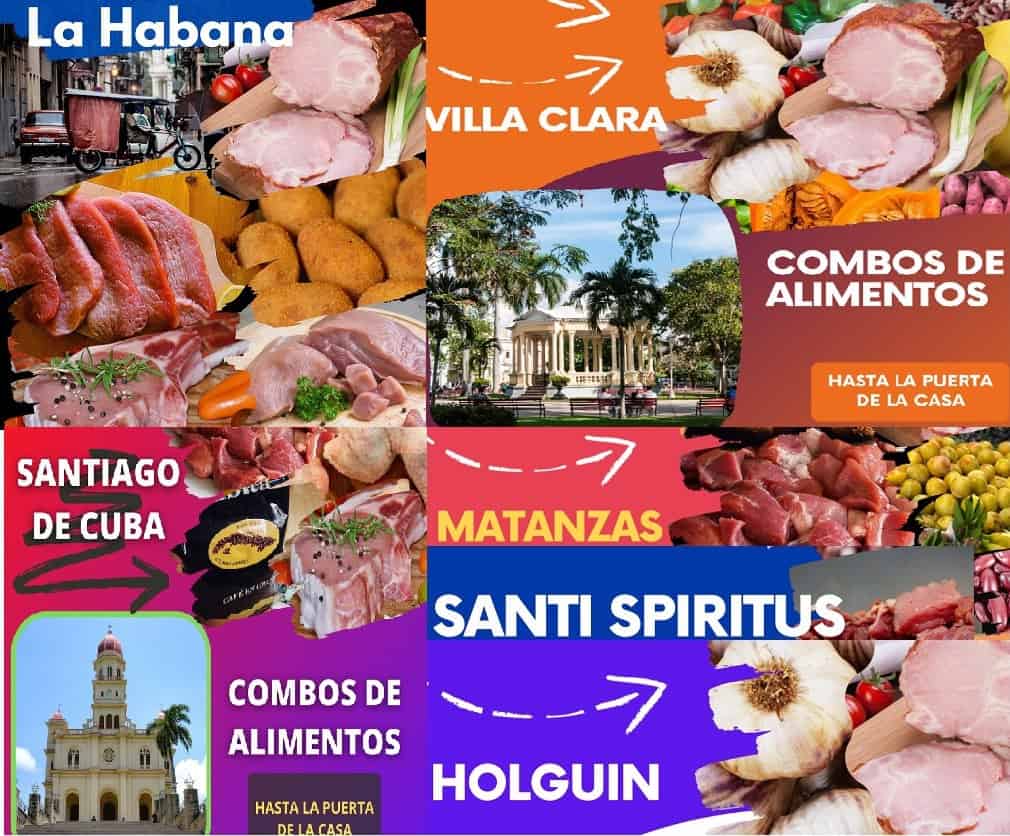 The best options to send meat to Havana
Regardless that the above options are also available for the capital of the country, and of course they have much more variety of offers than in the rest of the island, if you want to buy meat online for your family in Havana we recommend that you check Cárnicos El Rey.
It is a private virtual business with more than a decade of experience and dependencies in Canada and Spain. It offers a wide variety of meats, smoked meats and other meat derivatives. Although it is not properly owned by the Cuban government, it is also promoted within the TransporteCuba platform, where the different stores of the CIMEX Corporation and the Caribe Chain are normally advertised and sold. In other words, being part of this system, from there you can claim more easily in case of a delay or irregularity.
We show you some of the offers: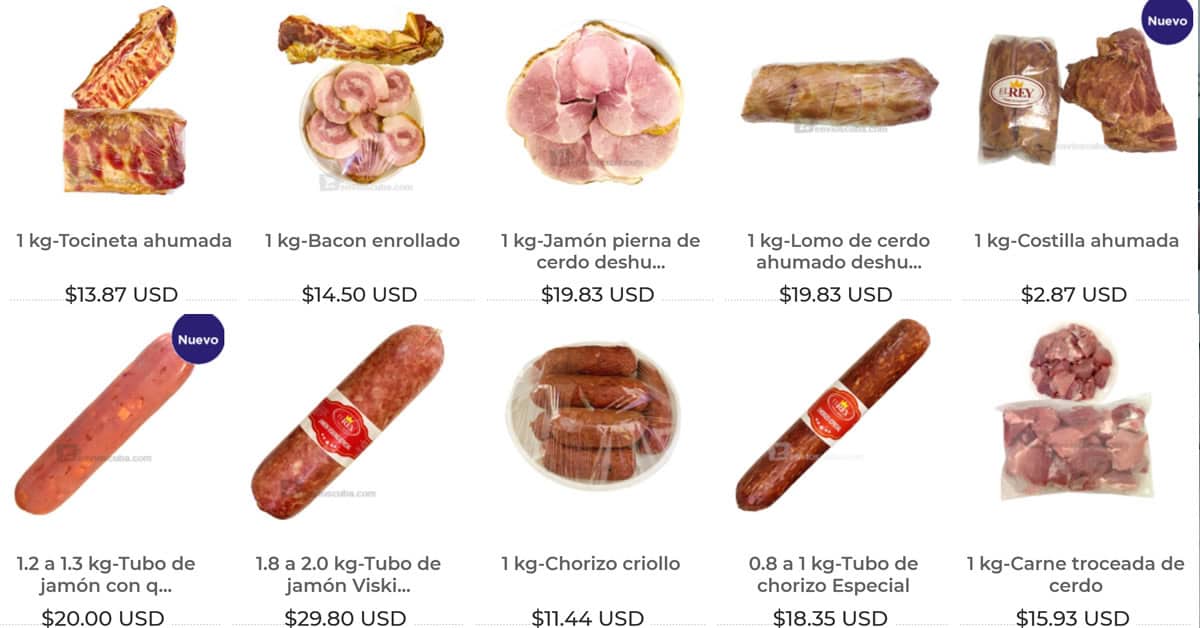 1 kg-Smoked bacon – $ 13. 87 USD
1 kg-Bacon rolled – $ 15. 50 USD
1 kg-Ham boneless pork leg – $ 19. 85 USD
1 kg-Boneless smoked pork loin – $ 19. 85 USD
8 to 2.0 kg-Tube of cooked ham – $ 29. 80 USD
1 kg-Creole Chorizo ​​- $ 11. 44 USD
8 to 1 kg-Special chorizo ​​tube – $ 18. 35 USD
1 kg-Pork chopped meat – $ 15. 93 USD
5 to 4.0 kg-Fresh pork leg – $ 59. 59 USD
8-9 kg-Pork leg with bone – $ 101. 57 USD
6-7 kg-Pork shoulder with bone – $ 74. 52 USD
4-5 kg-Fresh pork rib – $ 51. 56 USD
1 kg-Pork fillet – $ 17. 25 USD
10 – 12 kg-Leg fresh pork – $ 209. 46 USD
7 to 8 kg-Fresh pork shoulder – $ 85. 96 USD
6 to 7 kg-Fresh pork rib – $ 74. 58 USD
2 to 2.3 kg-Fresh pork ribeye – $ 25. 74 USD
2 × 250 g-Crispy Greaves— $ 5. 54 USD
1 L-Pork Fat— $ 4. 42 USD
10 × 101 g-Pork burger – $ 12. 69 USD
In the case of the country's capital, we also recommend you review Envíos Agro and MallHabana, as they are supported by the government and distributed by their own logistics system, Through Cuban mail, Taxis Cuba and other instances.
Powered by the Echo RSS Plugin by CodeRevolution.